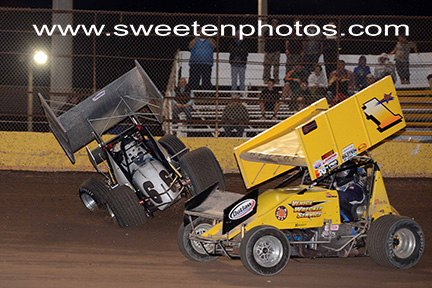 Clewiston FL: The Top Gun Spints invaded Hendry County Motorsports for a 25 lap feature.   Gene Lasker 02 started on the pole and led every lap but things were much more interesting behind him.  The start of the race saw 3 cars make contact with the 3a AJ Maddox getting turned around.  A few restarts later the race got going with 1 Tim George who started second getting passed by 82 Danny Martin, 52 Shane Kreider, and Maddox.  With Lasker out front the next 3 worked to settle 2ndthrough 4th.  After several swaps Following Lasker was Kreider, Martin, Maddox and George to round out the top 5.  Mike Schroeder overcame a flip in his heat to finish 6th with the help of a borrowed wing from Lasker.  Shane Kreider won the Hoseheads.com Cash Dash.
Street Stocks feature:.  After starting on the pole 98 Tom Arnold lead the first three laps.  Tommy Hill in the 1H passed for the lead on lap 4.   After a caution of Arnold smoking, Ron Regula dove to the bottom and drove passed Hill for the lead.   Tommy Hill came back and when Regula drifted up off the bottom drove right back to the lead and the win.  Following Hill and Regula, was Rick O'Steen, John Basquin, and Brian Morgan rounded out the top 5.   
Thunder Stocks feature:  5Tommy Hill 5H came from the 4th starting spot and took the lead and the win for his second win of the night.  The 11x of Steve Colon took a hard hit after a spin by Derrik Rose 5R Colon just got stopped before sandwiched by 08 Tim Stoffel.  Behind Hill it was JR Fitch, Robbie Regula, Kevin Cassady and Nick Osborne to round out the top 5. 
Mini Stocks feature: Larry Thacker Jr added new graphics but had a familiar result winning the Mini Stock Feature.   
In the Modified feature John Intoppa was tracked down by Bob Regula 5 slight contact saw Regula spin rather than take out Intoppa.  After going to the rear Regula came storming back to pass Intoppa and take the win.   John Bledsoe finished second followed by Intoppa, Mark Thompson and Lonnie Byassee.