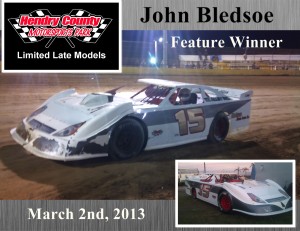 Brian Morgan gets his first HCMP Street Stock win of 2013!
Tim Stoffel wins Thunder Stock Trophy Dash.
Brian Morgan started on the pole for the feature after winning his heat race by passing Rick Osteen right before Rick and Tommy Hill got… together T-Bone style. Brian saw the green flag and the checkered flag first leading the whole race.
John Bledsoe debuted his new look and impressed everyone on and off the track with his first Feature win of the year in the combined race with the Open Wheel Modifieds. Don Sniff, John Wilson and Thomas Scott saw the track for the first time this year with some great looking cars.
The V-8 Thunders Stocks provided some exciting battles in the Trophy Dash and the Feature race. Some metal and tempers got bent, some tires deflated with the help of fellow competitiors. Marco Reyes lead the beginning laps of the Feature but a determined Tommy Hill started sixth and took the lead by lap five. J.R Fitch gave chase but finished second.
Larry Thacker Jr. and Betty Alley also got their first wins in newly frsehened up cars in Modified Mini Stocks and Powder Puff.
Class
V-8 Thunder Stocks Trophy Dash
Pos.
Car #
Drivers Name

1

08

Tim Stoffel

2

11X

Steve Colon

3

75+

Tom Alley

4

72

Ken Campbell

DQ

57

Mike Delvecchio
Class
V-8 Thunder Stocks
Pos.
Car #
Drivers Name
Feature Points
Heat Points
Total Points

1

5H

Tommy Hill

40

8

48

2

9

J.R. Fitch

38

10

48

3

93

Marco Reyes

36

9

45

4

B1

Cody Allen

34

10

44

5

80

Kevin Cassaday

32

9

41

6

08

Tim Stoffel

30

4

34

7

11X

Steve Colon

28

6

34

8

13

Justin Teston

26

8

34

9

72

Ken Campbell

24

6

30

10

73

Chad Wittle

22

5

27

11

75+

Tom Alley

20

5

25

DQ

57

Mike Delvecchio

0

0

0

Class
Street Stocks
Pos.
Car #
Drivers Name
Feature Points
Heat Points
Total Points

1

9

Brian Morgan

40

10

50

2

1H

Tommy Hill

38

6

44

3

7R

Rick Osteen

36

5

41

4

3

Ron Regula

34

9

43

5

5

Jeff Bobst

32

7

39

6

22

Todd Ansel

30

8

38

Class
Modified Mini-Stocks
Pos.
Car #
Drivers Name
Feature Points
Heat Points
Total Points

1

00

Larry Thacker Jr

40

10

50

2

88

Kevin Teeters

38

9

47

Class
Limited Late Models/Open Wheel Modifieds
Pos.
Car #
Drivers Name
Feature Points
Heat Points
Total Points

1

15

John Bledsoe

40

10

50

2

5

Bob Regula

38

8

46

3

10S

Don Sniff

36

6

42

4

10M

Scott Moores

34

7

41

5

64

John Wilson

32

9

41

6

61

Thomas Scott

30

5

35

7

28

Mark Thompson

28

5

33

Class
Powder Puff/ Juniors
Pos.
Car #
Drivers Name
Feature Points
Heat Points
Total Points

1

75+

Betty Alley

40

10

50

2

13

Alex Teston

38

9

47