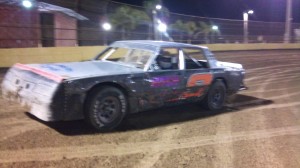 J.R. Fitch wins the First V-8 Thunder Stock Feature Race!
Tom Alley wins the First V-8 Thunder Stock Trophy Dash!
Eleven cars took the green flag for the Thunder Stock feature under the lights that stayed on all night after an early evening brief reset of the back staightaway lights. The new class that combined the popular Pure Stock and V-8 Bomber class looks like it will have great competition and participation this year. There are a lot of good cars being finished and there was a lot of good cars that were ready for Saturday Night.
Although many racers are still preparing to battle in a longer season,and Speedweeks activiities complicated scheduling, those that were able to make it had the opportunity to show their stuff on a cool but clear Florida night. The track surface was great thanks to the efforts of Larry Thacker and his trusty brigade of diesel equipment. The evening had some bent fenders, flat tires, flaring tempers (a few people even used swear words) and lots of fun, good racing and comradery. Next Saturday Night, February 23rd is the Swamp Cabbage Bash with all Local Points Classes and the Season Opening Event for the United Dirt Late Model Challenge Series.
Class
V-8 Thunder Stocks Trophy Dash
Pos.
Car #
Drivers Name

1

1

Tom Alley

2

1X

Steve Colon

3

08

Tim Stoffel

4

6

Nick Osborne

5

72

Ken Campbell
Class
V-8 Thunder 
 Stocks
Pos.
Car #
Drivers Name
Feature Points
Heat Points
Total Points

1

9

J.R. Fitch

40

10

50

2

5H

Tommy Hill

38

10

48

3

B1

Codey Benoit

36

9

45

4

1X

Steve Colon

34

7

41

5

911

Phil Peterson

32

9

41

6

57

Ed Steinhoff

30

8

38

7

08

Tim Stoffel

28

5

33

8

6

Nick Osborne

26

6

32

9

1

Tom Alley

24

7

31

10

29

Robbie Regula

22

8

30

11

72

Ken Campbell

20

6

26

Class
Street Stocks
Pos.
Car #
Drivers Name
Feature Points
Heat Points
Total Points

1

1H

Tommy Hill

40

9

49

2

23

Gary Champion

38

10

48

3

13

Steve Jones

36

7

43

4

7R

Rick Osteen

34

8

42

5

98N

Tim Arnold

0

6

6

Class
Modified Mini-Stocks
Pos.
Car #
Drivers Name
Feature Points
Heat Points
Total Points

1

10

Shawn Reiss

40

10

50

2

28

Mark Thompson

38

8

46

3

17

Scott Thompson

36

9

45

4

26

Glen Bidwell

34

7

41

Class
Open Wheel Modifieds
Pos.
Car #
Drivers Name
Feature Points
Heat Points
Total Points

1

18i

Jason Intoppa

40

9

49

2

5

Bob Regula

38

7

45

3

18

Jared Allison

36

10

46

4

28

Mark Thompson

34

8

42