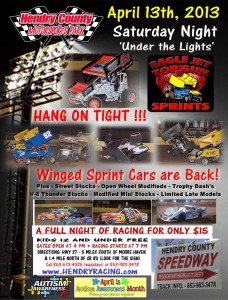 Clewiston FL –  On Saturday Night April 13th at 7:00pm the Hendry County Motorsports Park will host the Eagle Jet Top Gun Winged Sprint Car Series. In recognition of Autism Awareness Month the Speedway will make a donation to the Autism Society of America.
Autism is a complex developmental disability that effects nearly one in every one-hundred and fifty births. It is four times more likely to appear in boys than in girls. This disability typically appears during the three years of life and is the result of a neurological disorder that affects the normal functioning of the brain impacting development in the area of social interaction and communication skills.
On this night the Eagle Jet Top Gun Winged Sprint Cars will reach over 100 mph on the straightaways and slide sideways through the turns. The series is the premier Sprint Car series in Florida and always put on an awesome show. The last Sprint Car series race at Hendry County was won by Gene Lasker from the Tampa area who himself has a young son with Autism. Gene will be at the Speedway again this weekend to defend his crown as Sprint Car King of the Everglades Clay.
Also racing this weekend will be the Open Wheel Modifieds, Limited Late Models, Modified Mini Stocks, Street Stocks and V-8 Thunder Stocks. The Thunder Stocks and the Sprint Cars will have a Trophy Dash Event. In the Thunder Stocks be sure to watch local star Tommy Hill as he goes for a record seven feature wins in a row in his Randy's garage prepared Monte Carlo. There will be other local stars on hand such as David McCormack, Kyle Schram, John Basquin, Gary Champion and many others.
The Speedway is located on U.S. 27 just one mile north of the Hwy 80 and U.S. 27 intersection and four miles south of Moore Haven. The gates open at 4:00pm and the racing begins at 7:00pm. Come out early and enjoy the food and beverages which are always on hand. For more information call 863-673-4325 or 863-983-3478 or you can visit www.HendryRacing.com or Hendry Racing on Facebook. Remember kids 12 and under get in free, so come enjoy what will sure to be a fun filled night for the entire family.