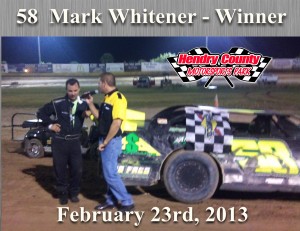 It was the Tommy Hill Show at Hendry County Motorsports Park February 23rd, 2013.
Justin Teston wins Thunder Stock Trophy Dash.
Ron Debeau takes a beating from Shawn Reiss and wins the Modified Mini Stock Feature anyway.
Roger Crouse takes Open Wheel Modified winners money home.
Tommy Hill takes checkers in Street Stock after Del Powell and Brian Morgan battled for the lead for the first half of …the race. Tim Arnold and Rick Osteen kept the pressure on but were no match for the 1H. In Thunder Stock Tommy was up front for the first half and surendered it to J.R. Fitch until something let go under the hood of the 9 car. With only a few laps left to go, new talent Nick Osborne found himself in the lead with Tommy Hill beating on his bumper. Tommy welcomed Nick to Hendry County by passing him on the last lap to win his second feature of the night.
The Tommy Hill Fan Club was beating their drums Saturday night.
Class
United Dirt Late Model Challenge Series
Pos.
Car #
Drivers Name
Qualifying Time

1

58

Mark Whitener

15.029

2

35

Christian Augspurger

14.983

3

15

Roger Crouse

15.439

4

77

Win Ingersoll

17.764

5

26

Adam Bedenbaugh

15.183

Class
V-8 Thunder Stocks Trophy Dash
Pos.
Car #
Drivers Name

1

13

Justin Teston

2

57

Mike Delvecchio

DNS

45

John Harlow

DNS

12

Gary Collins

DNS

08

Tim Stoffel
Class
V-8 Thunder Stocks
Pos.
Car #
Drivers Name
Feature Points
Heat Points
Total Points

1

5H

Tommy Hill

40

10

50

2

6

Nick Osborne

38

10

48

3

13

Justin Teston

36

6

42

4

88

Phil Peterson

34

8

42

5

B1

Codey Benoit

32

9

41

6

57

Mike Delvecchio

30

6

36

7

9

J.R. Fitch

28

9

37

8

45

John Harlow

26

7

33

9

11X

Steve Colon

24

8

32

10

12

Gary Collins

22

7

29

11

08

Tim Stoffel

20

0

20

Class
Street Stocks
Pos.
Car #
Drivers Name
Feature Points
Heat Points
Total Points

1

1H

Tommy Hill

40

8

48

2

14

Del Powell

38

10

48

3

7R

Rick Osteen

36

9

45

4

98N

Tim Arnold

34

8

42

5

23

Gary Champion

32

10

42

6

13

Steve Jones

30

7

37

7

9

Brian Morgan

28

9

37

8

5

John Basquin

26

7

33

Class
Modified Mini-Stocks
Pos.
Car #
Drivers Name
Feature Points
Heat Points
Total Points

1

06

Ron Debeau

40

9

49

2

10

Shawn Reiss

38

8

46

3

17

Scott Thompson

36

7

43

4

28

Mark Thompson

34

10

44

Class
Open Wheel Modifieds
Pos.
Car #
Drivers Name
Feature Points
Heat Points
Total Points

1

9

Roger Crouse

40

10

50

2

18

Jason Intoppa

38

6

44

3

5

Bob Regula

36

9

45

4

50

Kenny Murphy

34

7

41

5

28

Mark Thompson

32

5

37

6

99

Wayne Hilderbrand

30

8

38