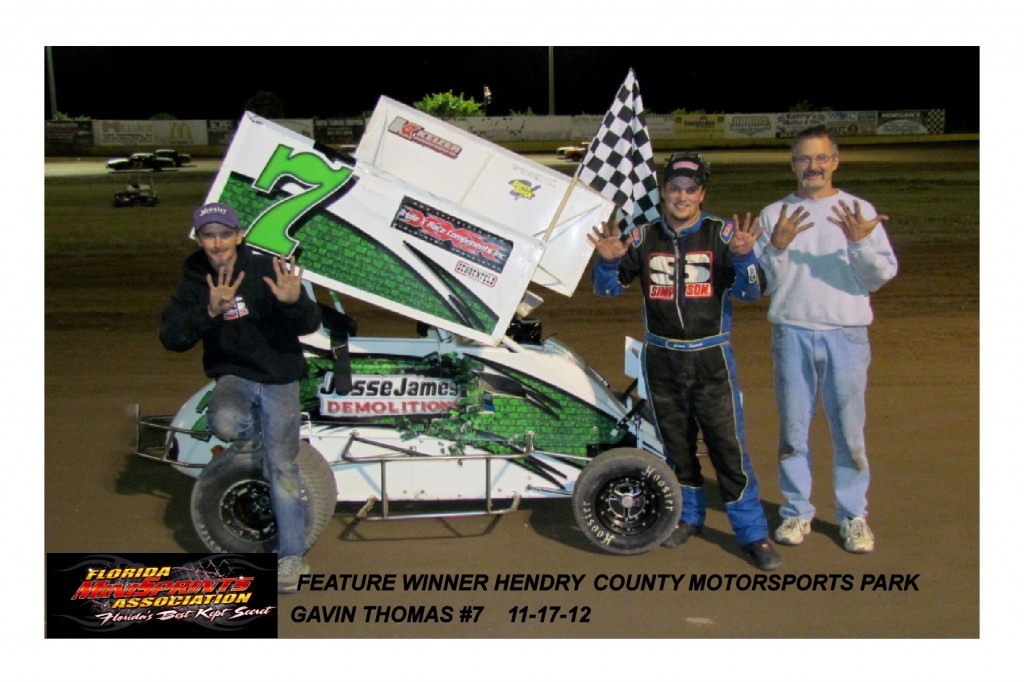 CHRISTIAN AUGSPURGER RUNS "WIRE TO WIRE"TO CLAIM KIM ALLEN MEMORIAL AT HENDRY COUNTY MOTORSPORTS PARK!!!Christian Augspurger made the haul from his Palm Beach Gardens,Florida home pay off as he captured the 4th annual Kim Allen Memorial Late Model Race taking the lead on lap 1 and never looking back at the Clewiston,Florida 3/8's mile dirt venue.
It wasn't an easy victory for Augspurger as Keith Nosbisch and Mark Whitner chased Christian thru out the event but could not best the youngster.
The United Dirt Late model Series has a double event this weekend with Friday nights huge show at Bubba Raceway Park and Saturday's grand event at the North Florida Speedway.
GAVIN THOMAS WINS AT HENDRY COUNTY MOTORSPORTS PARK/ 27 POINTS SEPARATES TOP THREE GOING INTO "CHAMPIONSHIP" WEEKEND
When Jesse Teed owner of the Jesse James Demolition/XXX Chassis #7 gave up his seat as driver mid season in order to allow Jacksonville,Florida's Gavin Thomas to make an attempt to win his first Florida Mini Sprint Association Championship little did either of them know it would end up being the closest point battle in F.M.S.A. history.
At the drop of the green Saturday night at Hendry County Motorsports Park Deland, Florida's John Moss #44 driving the Moss Motorsports/bendinrules entry who is on the verge of his second career feature victory led the field to turn 1 opening up a small lead the first two circuits when brother Eddie Moss Jr.'s #8 "strongarmed" his way to the front and opened up a comfortable lead.The story of the night was the rough track conditions and it would eventually reach up to bite Moss Jr. as on lap 8 the #8 would break a right rear rotor leaving Eddie stranded against the third turn wall missing a right rear tire and wheel.
On the restart the #7 of Thomas And #68 of Dirk Miller had aquired the top two spots and they would decide the outcome as the next twelve laps were caution free and Thomas came home the victor for his ninth win of the season.
Following Dirk Miller in second was John Moss in third,"Young Gun Sisters" Rhea Moss #88 in fourth and "Front" Paige Moss in fifth.
Heats were won by Marco Island,Florida's Nicholas Snyder #116 and Gavin Thomas #7
OFFICIAL FINISH HENDRY COUNTY MOTORSPORTS PARK F.M.S.A. FEATURE 11-17-12
1.] 7 GAVIN THOMAS
2.] 68 DIRK MILLER
3.] 44 JOHN MOSS
4.] 88 RHEA MOSS
5.] 04 PAIGE MOSS
6.] 116 NICHOLAS SNYDER
7.] 29 CONNOR BORAH
8.] 67 DAVID HALL
9.] 13 JOHN KAHL
10.]34 PETE SMITH
11.]30 JOHN CROWDER
12.]8 EDDIE MOSS JR.
13.]51 MICHAEL ATWELL
14.]13X TONY SINQUEFIELD
15.]3S ROBERT SNYDER